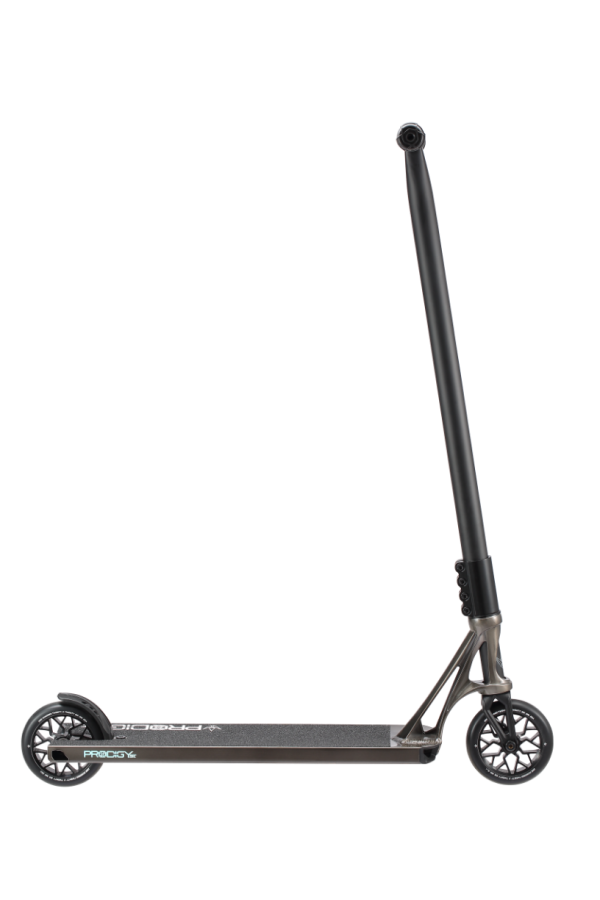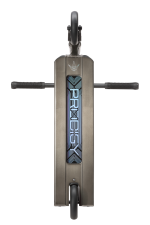 Prodigy X Street Complete- Grey
MBCOMPPROXSTGY
INTERMEDIATE/ADVANCED LEVEL STREET SCOOTER - The PRODIGY scooter range is the Blunt pro scooters most popular, top of the line scooters, classic colorways for the ultimate value. These pro street scooters are suited to the rider looking to make an upgrade to progress into the street scene.
QUALITY PRO LEVEL PARTS - High quality, professional scooter components. This series has the most upgrades to date using advanced new deck technology, Alu boxed ends, Fully Butted T bars , SCS Clamp,  all with a reduced overall weight.
THREE CLASSIC COLORWAYS - Durable high-quality finishes perfect to take a beating and keep on going.  Sleek & subtle colorways make this Envy scooter popular with adult pro scooter riders.
Details
The Prodigy X Street is built on the Prodigy technology with a sold street influence on its parts.
This series we kept some of the Prodigy classics -our soft & durable TPR Handgrips and our solid Diamond forks. The rest of the scooter got an overhaul getting some MAJOR upgrades. The heart of the scooter is our deck, for the Series X we developed a brand NEW deck extrusion -The Extech extrusion. This extrusion has a stealth lower profile, wider internal walls, boxier construction featuring a high responsive concave.
The PX Headtube has been redesigned as well, increasing contact with the deck, a diamond cutout and streamlined profile. The PX Street deck now comes with new dimensions 5.5" W x 21" L and our updated Aluminium Box Ends. The box ends maintain the boxier construction all the way to the end of the deck- perfect for smoother 5-0 grinds. All these features combine to reduce the overall weight and maintain strength. Stacked on top of the new deck we have some upgraded parts. Grip tape with increased grit count for additional grip and durability. V2 Nylon brake system adjusted to fit with our Extech extrusion.
The STREET complete is stacked with street styled parts- Fully Butted T bars, these chromoly bars have varied internal wall thickness' Thick were it needs to be strong and thinner where it doesn't. This maintains the strength of the Steel though reduces the weight dramatically. Essential 4 Bolt SCS- A streamlined version of our aftermarket OMEN SCS clamp. LOW stack headset compression cap, redesigned to integrate and streamline perfectly with our SCS clamp compression system. All rolling on the SECTOR 120mm x 26mm PU wheels 86A with the increased PU width assist with core protection and smoother ride.
The complete scooter comes in at a weight of 3.585kg/7.9lbs making it one of the lightets street completes. The Prodigy legacy continues to grow and can always be relied on for quality and performance.
For further technical specs please see below or click the banner to view more.
Specifications
Specifications

| | |
| --- | --- |
| Colour | Grey |
| Total Height | 900mm/35.4" |
| Total Length | 735mm/28.9" |
| Bar Height | 620mm/24.4" |
| Bar Width | 600mm/23.6" |
| Deck Length | 533mm/21" |
| Deck Width | 140mm/5.5" |
| Compression Type | SCS |
| Foot Space | 385mm/15.1" |
| Weight | 3.58kgs/7.9lbs |
Review
Write A Review
Please share your experience.
In the wild